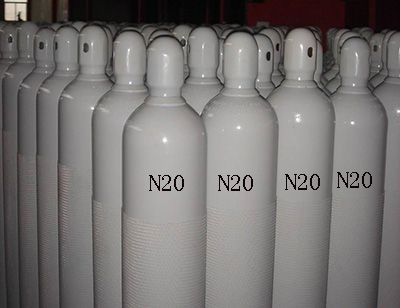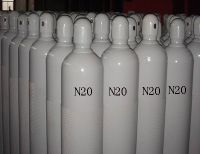 Content introduction
1、 Product introduction
Under normal temperature and pressure, nitrous oxide is a slightly sweet colorless odorless anesthetic gas, and it is colorless after liquefaction. Physical properties are very similar to CO2.
Liquid nitrous oxide has a saturated vapor pressure of about 5MPa at 20 ℃. When nitrous oxide is sprayed from the nozzle for adiabatic cooling, it can become solid dry ice. Nitrous oxide
It is relatively stable at room temperature, but starts to decompose when heated to more than 300 ℃, decomposes obviously at 500 ℃, and completely decomposes into nitrogen and oxygen at 900 ℃. air
It does not burn, but can support combustion. Nitric oxide is relatively stable in nature, does not react with water, acid and alkali solutions, and does not generate dangerous dioxide when mixed with oxygen
Nitrogen. It does not react with O2, O3, H2, halogen, alkali metal, PH3, H2S and aqua regia. It is a strong oxidant at high temperatures.
| | |
| --- | --- |
| 中文名:氧化亚氮/笑气 | 分子式:N2O |
| 英文名:Nitrous oxide | 相对分子量:44.01 |
| CAS No:10028-97-2 | 危险性类别:第2.2类 |
| UN No:1070 | 溶解性:能溶于水、乙醇、乙醚、浓硫酸 |
| 熔点(三相点):-90.8℃ | 沸点(101.325kPa): -88.5℃ |
| 临界温度: 36.4℃ | 液体密度(-88.33℃):1281.5kg/m3 |
| 临界压力: 7.25MPa | 相对密度(气体,空气=1):1.530 |
2、 Technical indicators

| | |
| --- | --- |
| Inspection items | index |
| 氧化亚氮(v/v)% ≥ | 99.9995 |
| 氮 ppmv ≤ | 1 |
| 氧 氩 ppmv ≤ | 1 |
| 一氧化碳ppmv ≤ | 0.5 |
| 二氧化碳ppmv ≤ | 0.5 |
| 氢 ppmv ≤ | 0.5 |
| THC含量 ppmv ≤ | 0.5 |
| 水 ppmv ≤ | 1 |
| 氨 ppmv ≤ | 1 |
| 氮氧化合物ppmv ≤ | 1 |
3、 Packaging specification (steel cylinder, Y cylinder)
| | | |
| --- | --- | --- |
| Volume (L) | 47 | 470 |
| Filling capacity (kg) | 29 | 290 |
| Valve model | DISS712 | DISS712 |
Other specifications can be provided according to customer requirements.
4、 Application of nitrous oxide
Nitric oxide is used as medical anesthetic, refrigerant, combustion supporting agent, preservative, smoke spray, standard gas, balance gas, etc., and can also be used for air tightness
Carriers for property inspection and atomic absorption spectroscopy, etc., the ammunition industry is used as propellant, and the electronic industry is used in the chemical vapor deposition plasma process of silicon dioxide.
5、 Precautions
Store in a cool and ventilated warehouse, and the temperature should not exceed 50 ℃. Nitrous oxide, like oxygen, is a combustion supporting gas, so it should be kept away from oil and other combustibles,
Keep away from heat and fire. In case of leakage, personnel in the contaminated area shall be evacuated quickly and isolated until the gas is exhausted. Emergency treatment is recommended
Personnel shall wear self-contained breathing apparatus and corresponding work clothes. Ventilate properly, accelerate the diffusion, and do not connect the leakage with combustible materials (wood, paper, oil, etc.)
Touch, cut off the air source, and then exhaust (indoor) or strong ventilation (outdoor). The leaking container shall not be reused, and shall be subject to technical treatment to remove possible residues
The gas shall be properly treated and reused after repair and inspection. There is a cylinder inspection time on the bottle neck of the cylinder, and the unqualified cylinder shall be entrusted to Philips Special
The gas suppliers shall go to a qualified pressure vessel inspection unit for inspection. It is strictly prohibited to use expired cylinders.
6、 First aid measures
Inhalation: quickly leave the site to a place with fresh air. Keep the respiratory tract unobstructed. If breathing is difficult, give oxygen. If breathing stops, conduct artificial operation immediately
Breathe. Get medical attention.
Fire extinguishing method: nitrous oxide is incombustible. Firefighters must wear gas masks and full body fire-fighting clothes. Use foggy water to keep containers cool in the fire scene.
Cut off the gas source quickly, spray water to protect the personnel who cut off the gas source, and then select appropriate fire extinguishing agent according to the fire cause.