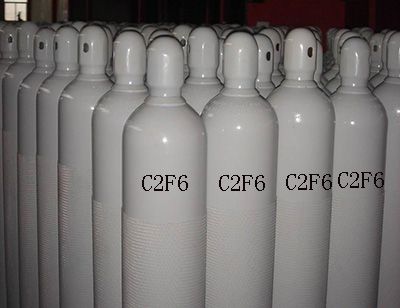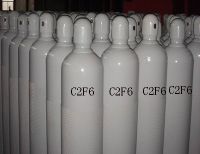 Content introduction
1、 Product introduction
A colorless, tasteless, non-toxic and incombustible gas, which is the perfluoride corresponding to the hydrocarbon ethane

Chinese name: hexafluoroethane

Molecular formula: C2F6

English name:hexafluoroethane

Relative molecular weight: 138.01

CAS No:76-16-4

Hazard category: 2.2

UN No:2193

Water solubility: insoluble

Melting point: - 100.7 ℃

Boiling point: - 78.2 ℃

Critical temperature: 19.65 ℃

Relative density of liquid (water=1): 1.112

Critical pressure: 2.98MPa

Relative density of gas (air=1): 4.766
2、 Technical indicators
| | |
| --- | --- |
| Inspection items | index |
| 六氟乙烷(v/v)% ≥ | 99.999 |
| 氮 ppmv ≤ | 4 |
| 氧 ppmv ≤ | 1 |
| 一氧化碳ppmv ≤ | 1 |
| 二氧化碳ppmv ≤ | 1 |
| 其它氟碳化合物ppmv ≤ | 5 |
| 水 ppmv ≤ | 3 |
| 总酸度(以HF计)ppmv ≤ | 0.1 |
3、 Packaging specification
| | | |
| --- | --- | --- |
| Volume (L) | 43 | 470 |
| Filling capacity (kg) | 40 | 400 |
| Valve model | CGA660 | DISS716 |
Other specifications can be provided according to customer requirements.
4、 Application of hexafluoroethane
In the microelectronic industry, it is used for plasma etching gas, device surface cleaning, optical fiber production, and low-temperature refrigeration.
5、 Precautions
Store in a cool and ventilated warehouse. Keep away from kindling and heat source. The warehouse temperature should not exceed 50 ℃; It shall be compatible with combustible materials and oxidation
The agent shall be stored separately and shall not be mixed. The storage area shall be equipped with leakage emergency treatment equipment. Operators must be specially trained and strictly abide by the operation
rules. Closed operation and local ventilation. It is recommended that operators wear filter gas masks (half masks). This product can cause rapid asphyxia,
It can be regarded as non-toxic gas, but when it burns with combustible gas, it will decompose to produce toxic fluoride. In case of poisoning, the victim should be immediately
Move to a pollution-free area, apply artificial respiration if necessary, and ask a doctor for treatment. Bottled gas products are high-pressure liquefied gas, which shall be reduced by
The gas can be used only after the pressure is reduced. When the tail gas is used in each bottle, the residual pressure in the bottle shall be kept at 0.3MPa, and the residual pressure of * * * shall not be less than 0.2MPa,
Close the bottle valve to ensure the gas quality and use safety. Do not expose the cylinder to the sun, throw it heavily or hit it. It is strictly prohibited to bake the cylinder with open fire and barbarism
Loading and unloading. There is a cylinder inspection time on the bottle neck of the cylinder, and the unqualified cylinder shall be entrusted to a qualified pressure supplier such as Philips Special Gas
The container inspection unit shall conduct inspection. It is strictly prohibited to use expired cylinders.