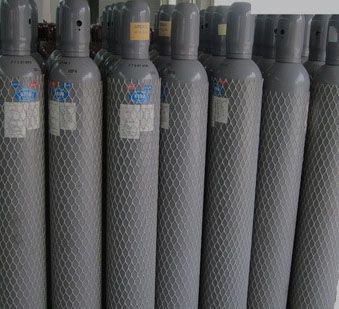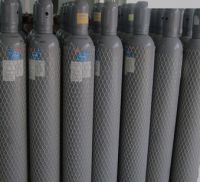 Content introduction
1、 Product introduction
Nitrogen trifluoride is a colorless, odorless and chemically stable gas at room temperature. It is nonflammable, but can support combustion, and is a strong oxidant.
When the temperature exceeds 350 ℃, nitrogen trifluoride will slowly decompose, producing strong oxidizing fluorine, so it is a strong oxidant at high temperatures.
Nitrogen trifluoride can be used as the fluorine source of HF gas fluoride high-energy chemical lasers, and is an excellent plasma etching gas in microelectronics industry.
| | |
| --- | --- |
| Chinese name: nitrogen trifluoride | Molecular formula: NF3 |
| 英文名:nitrogen trifluoride | 相对分子量:71.01 |
| CAS No:7783-54-2 | Hazard class: Class 2.3 |
| UN No:2451 | Solubility: insoluble in water |
| 熔点(101.325kPa):-206.79℃ | 沸点(101.325kPa):-129.0℃ |
| 临界温度:-39.3℃ | 液体密度(-129℃,101.325kPa):1540kg/m3 |
| 临界压力:4.53MPa | 气体密度(20℃,101.325kPa):2.96kg/m3 |
2、 Technical standards
Inspection items

Indicators

三氟化氮(v/v)% ≥

99.995

99.99

四氟化碳ppmv ≤

20

40

氮ppmv ≤

5

5

氧 氩ppmv ≤

3

3

一氧化碳ppmv ≤

0.5

1

二氧化碳ppmv ≤

1

5

氧化氩氮ppmv ≤

1

5

六氟化硫ppmv ≤

1

5

总酸度(以HF计)ppmv ≤

1

1

水ppmv ≤

1

1
3、 Packaging specification (steel cylinder, Y cylinder, long tube trailer)
| | | | | |
| --- | --- | --- | --- | --- |
| Volume (L) | 40 | 47 | 470 | tube trailer |
| Gas weight (kg) | 15 | 20 | 200 | / |
| Filling pressure (MPa) | 9--13 | 9--13 | 9--13 | / |
| Valve model | CGA330 | CGA640 | CGA640 | / |
Other specifications can be provided according to customer requirements.
4、 Application of nitrogen trifluoride
Nitrogen trifluoride can be used as the fluorine source of hydrogen fluoride gas fluoride high-energy chemical lasers, and is an excellent plasma etching gas in the microelectronics industry,
Especially in the etching of integrated circuit materials with thickness less than 1.5 um, nitrogen trifluoride has very excellent etching rate and selectivity
No residue is left on the surface, and it is also a very good cleaning agent.
5、 Precautions
Store in a cool and ventilated warehouse. Keep away from kindling and heat source. The warehouse temperature should not exceed 50 ℃. It shall be mixed with combustible (combustible) materials, reducing agent and edible chemistry
The products shall be stored separately and shall not be mixed. The storage area shall be equipped with leakage emergency treatment equipment. The operators must be specially trained and strictly abide by the operating procedures. dense
Adequate local exhaust and ventilation shall be provided during operation in closed spaces. It is recommended that operators wear self-priming filtering gas masks (half masks) and chemical
Safety goggles, anti poison penetration work clothes and rubber gloves. Keep away from kindling and heat sources. Smoking is strictly prohibited in the workplace. Keep away from inflammables and combustibles.
Prevent gas leakage into the air of the workplace. Avoid contact with reducing agents. Wear the steel cylinder safety helmet and shockproof rubber band to prevent the steel cylinder from colliding
Damage. Fire fighting equipment and leakage emergency treatment equipment of corresponding varieties and quantities shall be provided. There is a cylinder inspection time on the cylinder neck, and the unqualified cylinder
The supplier of Philips special gas shall be entrusted to a qualified pressure vessel inspection unit for inspection. It is strictly prohibited to use expired cylinders.
6、 First aid measures
Skin contact: Take off contaminated clothes and wash with flowing water. In case of burns, seek medical treatment.
Eye contact: immediately open the upper and lower eyelids and rinse with flowing water for 15 minutes. Get medical attention.
Inhalation: quickly leave the site to a place with fresh air. Keep the respiratory tract unobstructed, and give oxygen when breathing is difficult. When breathing stops, perform artificial respiration immediately.
7、 Emergency treatment for leakage
Evacuate the personnel in the contaminated area quickly, isolate them, and strictly enter and exit. Cut off the ignition source. It is recommended that emergency treatment personnel wear self-contained positive pressure type
Respirator, wear anti poison clothes. Cut off the source of leakage as much as possible. Provide reasonable ventilation to accelerate diffusion. Leaking containers shall be properly treated and reused after repair and inspection.